Learning Communities
Our next Learning Community is scheduled for Spring 2022
LC151 - Stories Beyond Bars: Race, Power, and (In)Justice
ENGL&102 English Composition II; ENGL 265 Literature and Society; SOC 150 Race & Ethnic Relations in the US; SOC&201 Social Problems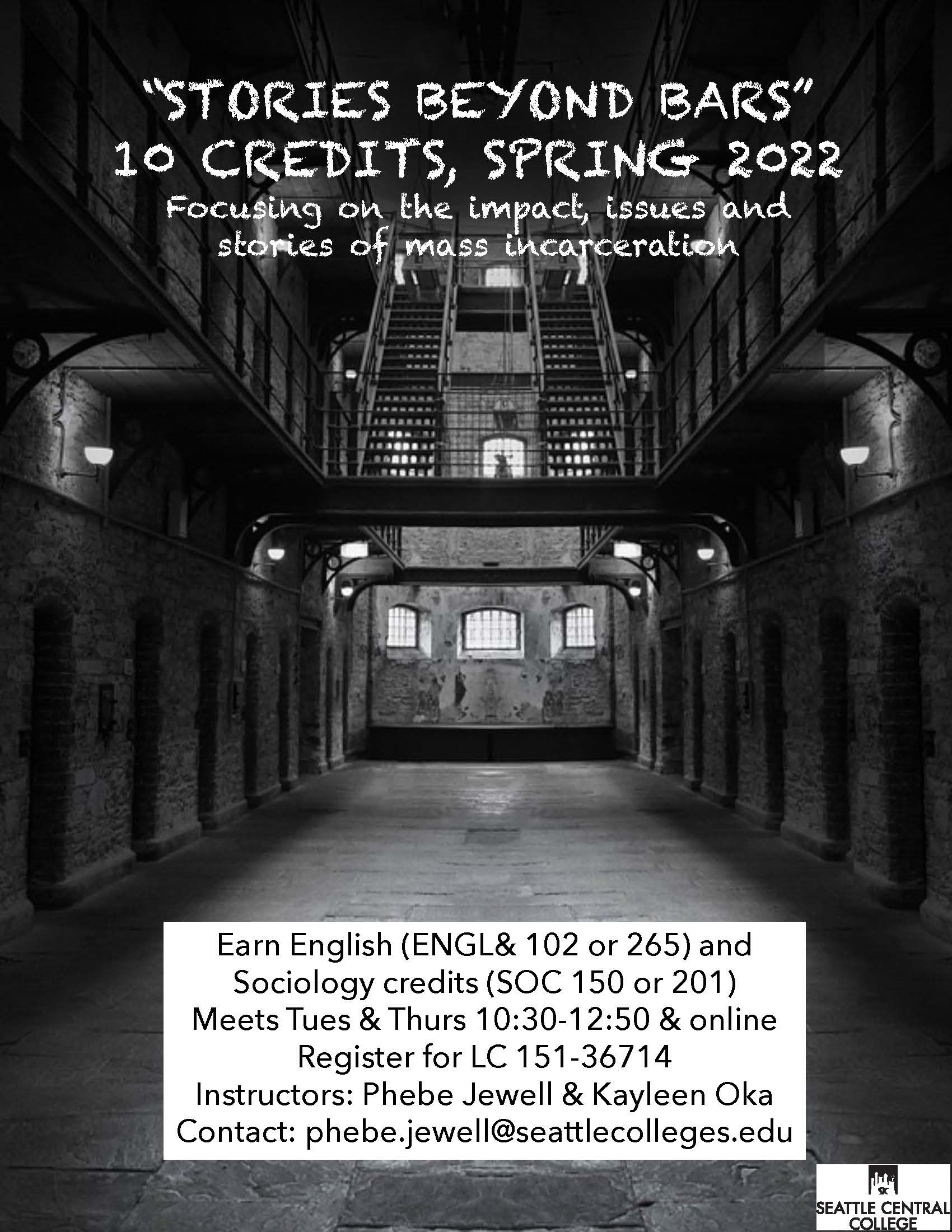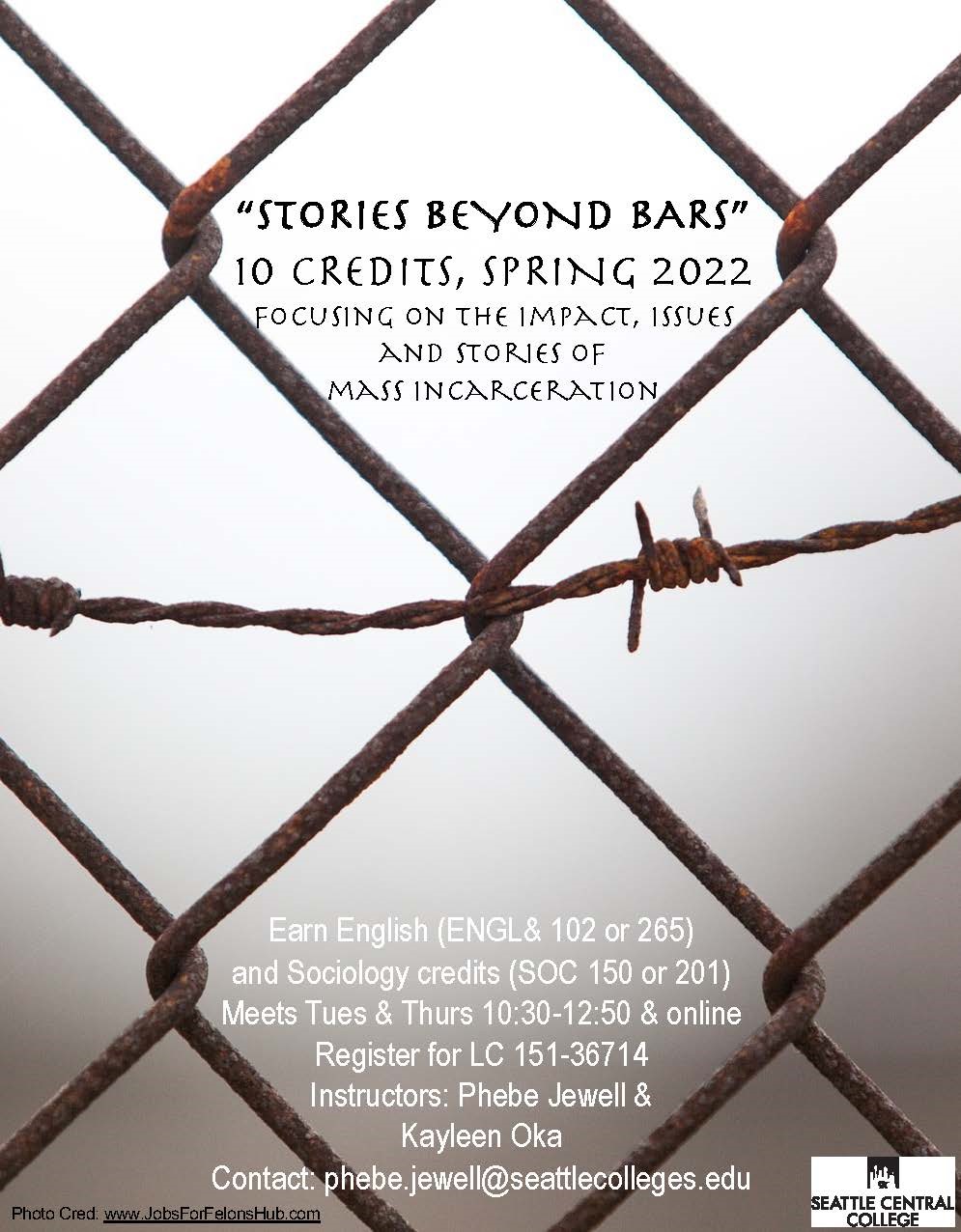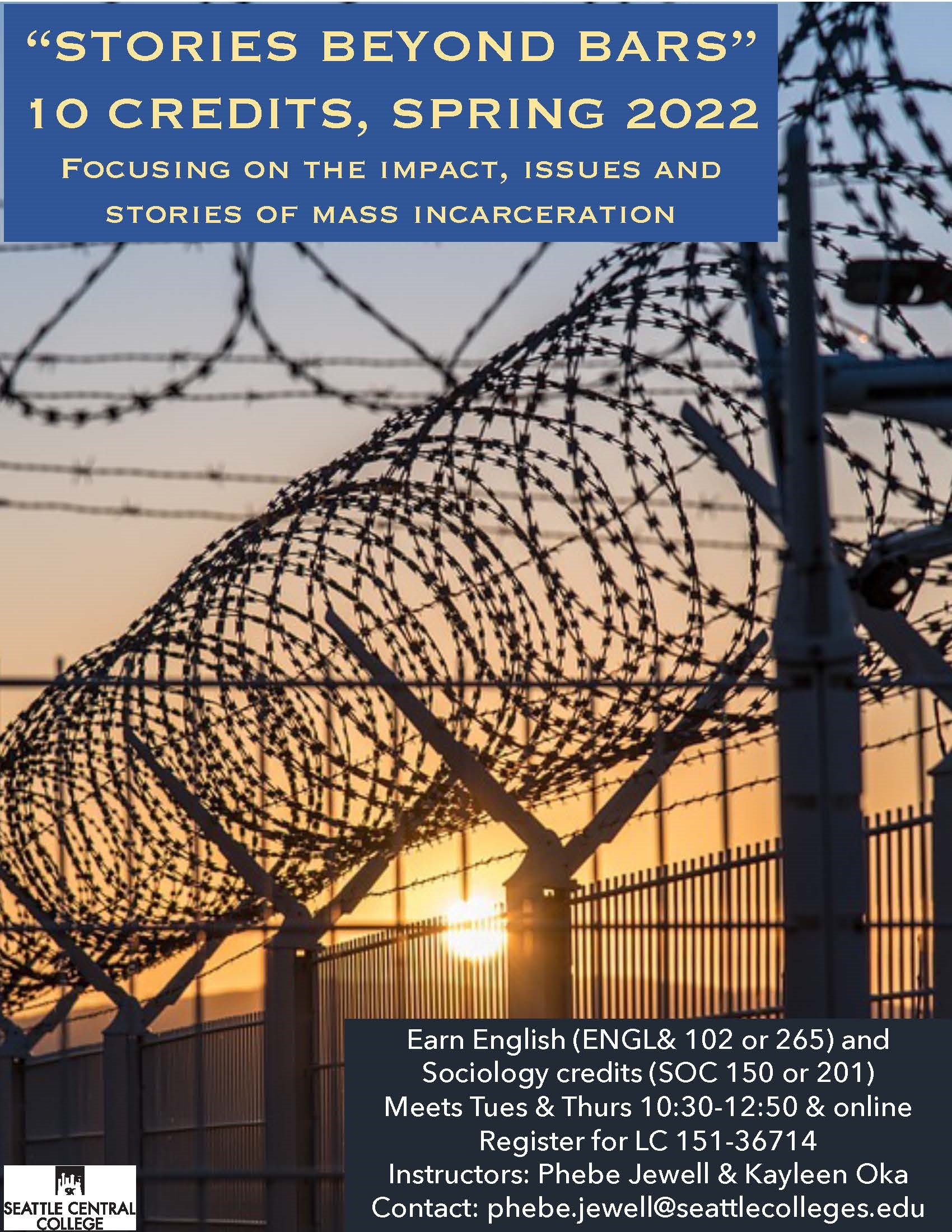 Centering on stories by incarcerated people, this 10-credit course integrating Sociology and English examines the history, impact, and issues surrounding mass incarceration in the US. Key issues we will explore are the role of power and control in the criminal justice system, violence, race, restorative justice, abolition of the prison industrial complex, and alternatives to prison.
Earn 10 credits of your choice and learn in a supportive cohort of your peers!
quick info sheet (pdf format)
Meets Tue & Thu 10:30-12:50 and online
Instructors: Phebe Jewell and Kayleen Oka
Contact: phebe.jewell@seattlecolleges.edu
Register for LC151 in the quarterly class schedule 
Type LC in the 'Subject begins with' search box or 36714 in the 'Class Number' box.
ALERT!  Unfortunately, ctcLink can be pretty confusing when it comes to learning communities. If you search the Spring 2022 schedule for one of these classes, they are listed as CLOSED... but that's not true!
SOC 150 Race and Ethnic Relations in the United States
SOC& 201 Social Problems
ENGL 265 Literature and Society
ENGL& 102 Composition II
Fact: All these classes are part of one Learning Community, and you must register for:
LC 150 Stories Beyond Bars
Say Their Names: Power, Resistance, Justice
ENGL&101 English Composition I; HDC 101 Orientation to College Success; HUM 150 Ways of Knowing; INFO 101 Introduction to Information Resources; SOC& 101 Intro to Sociology.
quick info sheet (pdf format)
welcome video (opens in YouTube)

From Atoms to Anatomy
BIO 241 Human Anatomy & Physiology I; CHEM 121 Intro to Chemistry; BIO 298 Exploratory Pathways in the Sciences

The Art of War
ART 105 Modern Art; ART 255 Survey of Asian Art; HIST 210 The Pacific Century; HUM 105 Intercultural Communications

Math in Motion I
MATH 151 Calculus I; PHYS 221 Physics I for Engineers; CSC 102Q Computers in Math
- innovative course that brings the content of mechanics and differential calculus together in one classroom led by two expert teachers with research experience. Ideal course for the aspiring STEM major (science, technology, engineering, and math). Studying both subjects together will give you a sense of how the two reinforce each other and provide you with the skills needed to be successful going forward. Opportunity to learn in a fun, engaging, highly interactive environment.

Speaking Up – Building Bridges, Building Community
CMST& 101 Intro to Communications; ENGL&101 English Composition I; HDC 101 Orientation to College Success; HUM 150 Ways of Knowing; INFO 101 Introduction to Information Resources

Holocaust: Memory and Meaning
HIST 269 History of the Holocaust; HUM 105 Intercultural Communication; ENG 218 Literature of the Holocaust; ENG 102 Composition
- provides students the opportunity to immerse themselves in the causes, experiences, and representations of the Holocaust. Through an in–depth study of firsthand accounts, literature, historical documents and theory, students in "Memory and Meaning" will examine core questions about intolerance, prejudice, representation, memorializing, and genocide.
What is a learning community?
Group of courses that are team taught by two or more faculty members with fully integrated course work.
Integrates multiple disciplinary perspectives and leads students to actionable solutions.
Can be a full course load with a total package of 10-15 credits.
Interactive curriculum includes student seminars, field trips, group projects, performances, guest speakers, co-curricular activities – anything but your traditional classroom fare.
Why would a student want to enroll in one?
Explore issues and concerns of a topical theme with instructors from different subject areas (academic disciplines).
Develop creative and critical thinking skills, while making connections across academic disciplines.
Enter and complete an educational journey that welcomes life experiences and encourages problem-based learning.
Retain knowledge and gain a sense of belonging at our college.
Build bonds with your peers that will help in your academic success.
Meet the Integrated Studies special requirement for the AA transfer degree.