Out-of-State Students
Students from all states and the District of Columbia, and International students residing inside or outside of the United States are welcome to apply now. Contact eLearning with questions at DisLrn@SeattleColleges.edu.
SARA Institution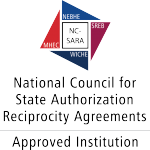 Seattle Central College operates in Washington under the terms and provisions of SARA, the State Authorization Reciprocity Agreement (SARA). SARA is an agreement among member states that establishes comparable national standards for interstate offering of postsecondary distance education courses and programs. SARA's intent is to make it easier for students to take online courses offered by postsecondary institutions based in another state. 
Student Location
The state in which our students are located impacts SARA notification and reporting requirements. Out of state students must confirm their state location when they register each quarter. 
Location or Address Change
It is the student's responsibility to notify Seattle Central College of any change of location and/or address. Visit our Change of Address page for instructions. 
Programs Designed to Lead to Professional Licensure/Certification
Seattle Central College offers some on campus programs that meet the educational requirements for specific professional licensure/certification required for employment in an occupation in Washington only: 
Seattle Central College has not determined if the curriculum of the above listed on campus programs meet the educational requirements for licensure/certification in any other state. All of our courses and programs are fully accredited and course credits may transfer to university programs that are designed to meet state professional licensure/certification. Additional information about licensure/certification concerns can be found on the NC-SARA webpage. Please contact eLearning with any questions at DisLrn@SeattleColleges.edu. 
Student Complaints 
As part of the process of gaining approval to serve out-of-state students, state and federal guidelines require us to provide information about resolving complaints about our instruction or student services.
College Tuition Refund Policy
Students who have paid tuition and withdraw from class(es) may have a refund owing based on the college's Refund Policy.