Neighborhood & Campus Security
Our Links to the Capitol Hill Neighborhood
The Seattle Central Broadway campus is unique within the state's community college system.  The college brings thousands of students ranging from sixteen years old to sixty into a dense urban neighborhood.  While many students live within a two-mile radius of the campus, the college is largely a commuter campus.  The safety and security concerns during daytime hours of maintaining an open access campus are compounded by the dispersion of college buildings on opposite sides of busy thoroughfares.
Broadway and Cal Anderson Park are populated with a significant number of individuals experiencing homelessness, substance abuse and mental health challenges or are coming to the Pike-Pine Corridor for nighttime entertainment.  The college routinely deals with non-students coming onto campus grounds and into campus buildings.  While most of these visits are benign, Seattle Central has a much higher incidence than any other state college for unfriendly interactions and assaults.  The Facilities Department frequently cleans up defecation and spends tens of thousands on graffiti removal. 
College Security
The aim of Central's Security Department is to provide a reasonable level of protection to the campus community through various methods and tools at its disposal. The ultimate goal is to create a safe learning environment for students and a safe working environment for college faculty and staff. This mission is accomplished through proactive patrol work, the building of social equity through customer service, investments in physical security and crime prevention efforts.  Security staff hires are specifically trained to recognize and accommodate the diverse cultural backgrounds of our students and staff.  
The college has undertaken a new security initiative in 2020 to convert all exterior entrances to campus buildings to require an electronic identification card for entry.  The one exception will be the main entrance at 1701 Broadway across from the Mitchell Athletic Center.
Walkways and Connections to the Neighborhood
As illustrated below, the campus has been designed with a number of pedestrian pathways from east to west: The vacated E. Howell street corridor along the north side of the Broadway Edison Building; a pathway from Broadway to Harvard thru the South Plaza; stairways from Nagle Place to the plazas in front of the college bookstore and the Mitchell Activity Center.  Several less formal pedestrian pathways are in use as well:  the alley between Pike and Pine behind the Fine Arts Building and the Siegal Center; the mid-block crossing of Harvard Avenue to get to and from the parking garage.  
Many of these pathways are in daily use by neighborhood residents.  Because the Pike-Pine entertainment district is vibrant, they receive heavier use on weekends and evening hours than a normal college campus would experience.  The college acknowledges that maintaining safe pedestrian friendly corridors is a responsibility it must shoulder. 
Because of the many doorways in to campus buildings there are challenges with recessed entrances and blind spots.  The college has installed gates in some doorways to eliminate hiding spots and in general has increased the light levels of outdoor plazas and walkways.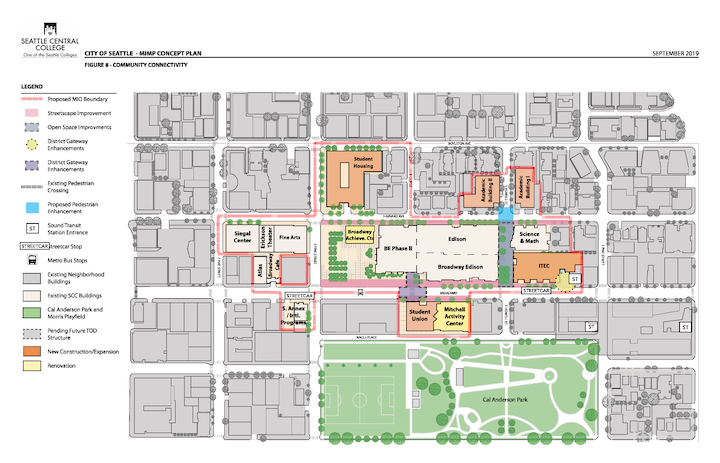 Link to larger Community Connectivity Map
Comments & Feedback
Please share any thoughts, concerns or suggestions you have around neighborhood and campus security by visiting our Community Feedback page and choosing Neighborhood & Campus Security as your Comment Topic. Thank you!