Height, Bulk, and Density
Transitions in Scale
Recent changes to the Land Use code in the Capitol Hill neighborhoods have increased the height, bulk and density of Seattle Central College's neighbors such that they exceed those permitted by Central's current Major Institution Master Plan (MIMP). The college seeks to consolidate its operations to the extent possible north of Pine Street, and adjacent to its principal buildings (the Broadway/Edison Complex, Science and Math Building, and the Mitchell Activity Center).
Increasing the overall density and compactness of college operations affords the college several benefits.  Fewer and larger buildings are more sustainable to construct and operate. It also permits the college to serve an increased number of students without expended limited resources to acquire new properties. There are benefits to the community as well.  By focusing new development north of Pine and west of Broadway, valuable smaller and older buildings with character can be preserved for other uses.  Limiting the college footprint also affords other opportunities for sites in the neighborhood to be developed for commercial, housing and retail needs.
The college seeks to define within its MIMP updated development standards for Height, Bulk, and Density to align them with the neighborhood's guidelines. In general:
Height – Many of the college's current parcels are limited to 65'. For the college's parcels located north of Pine, we propose increasing the height of all parcels in proposed MIMP boundary, to 105'. This will align with SCC's existing MIMP allowable height.

Bulk – the plan envisions standards for setbacks and modulation that are aligned with the neighborhood's underlying Midrise Residential and Neighborhood Commercial 3P zones. In addition, it anticipates compliance with relevant elements of the Capital Hill Neighborhood Design Guidelines to assure the architectural context and character of the neighborhood are maintained.

Density – the college's current MIMP limits the college to a density (as defined by the City's Floor Area Ratio (FAR) calculation of 2.1 developable building area for each square foot of land. This is substantively lower than any of the underlying zones which range from 2.25 in the Pike Pine Conservation District to 5.5 in the Station Overlay District. The college seeks to define a new density FAR aligned with the neighborhood's goals.
Definitions of Terms
Floor Area Ratio (FAR): A ratio expressing the relationship between the amount of a structures floor area permitted on a lot. For example: A 10,000-square-foot lot, with an allowable FAR of 3, would be allowed to include a structure of up to 30,000 square feet.
 
Modulation: A stepping back or projecting forward of the structure' s facade as a means of breaking up the apparent bulk of the structure.
Setback - Means the minimum required distance between a structure and a lot line.
 
NC3-65: A City of Seattle zoning designation, Neighborhood Commercial 3 - 65' with 65 feet being the allowable structure height. NC3 is designated to support or encourage a pedestrian-oriented shopping district that serves the surrounding neighborhood and a larger community, citywide, or regional clientele; that incorporates offices, business support services, and residences that are compatible with the retail character of the area.
 
Station Overlay District: An area with unique land use regulations that support transit-oriented development near light rail stations. The Capital Hill Station Overlay District, as it relates to Seattle Central College, generally bisects the College at East Olive Way and extends north.
Proposed Major Institution Overlay District Map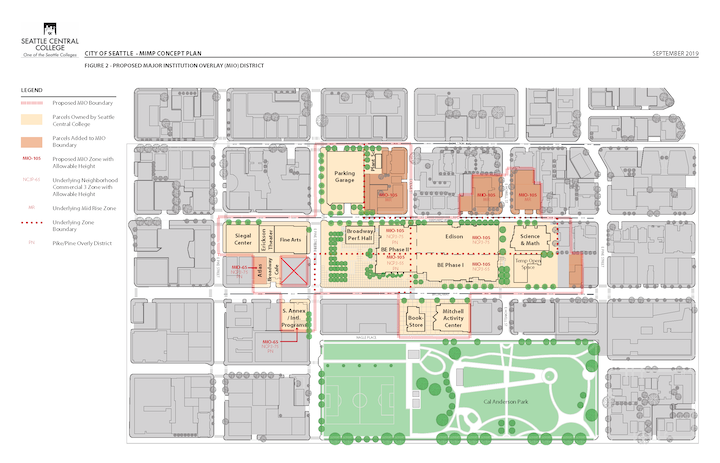 Link to larger Proposed Major Institution Overlay District Map
Comments & Feedback
Please share any thoughts, concerns or suggestions you have around this topic by visiting our Community Feedback page and choosing Height, Bulk, and Density as your Comment Topic. Thank you!