Changing Boundaries
Adjustments to the North and West
The college has recently transferred control of the South Annex property to Capitol Hill Housing and YouthCare for a new affordable housing project coupled with a dormitory and service center for homeless youth enrolled in vocational training or higher education. Within a year it will exchange the Atlas Bldg. and Broadway Café site with Sound Transit for Site D, a 10,000 square foot parcel adjoining the campus North Plaza.
Future new building development will be north of Pine Street, contrary to the 2002 plan's goal of expanding south of Pine Street. The college has proposed altering its campus boundaries to reflect this.
The northern boundary will now fully encompass Site D, the 10,000 square foot vacant parcel next to the west portal of the light rail station.
The western boundary will go across Harvard Street at E. Howell to encompass land currently owned by the Seattle Presbytery and which is no longer being used for church services. The college has entered into a memorandum of understanding with the Presbytery for future expansion of college needs.
The western boundary at Boylston and Pine will expand north to E. Olive Street and then east to Harvard to create one contiguous block which will include the new student housing complex. While there are no planned uses for the balance of this block's land, the new boundary reflects the college's goal of containing any future expansion to properties contiguous to the current Broadway/Edison building.
Development Limits
Below, you will find a map of both the Existing Development Limits (top) and the Proposed Development Limits (bottom).
Existing Development Limits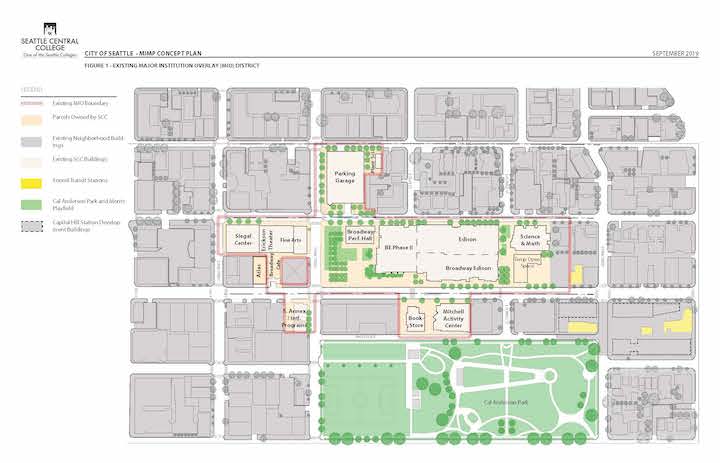 Link to larger Existing Development Limits Map.
Proposed Development Limits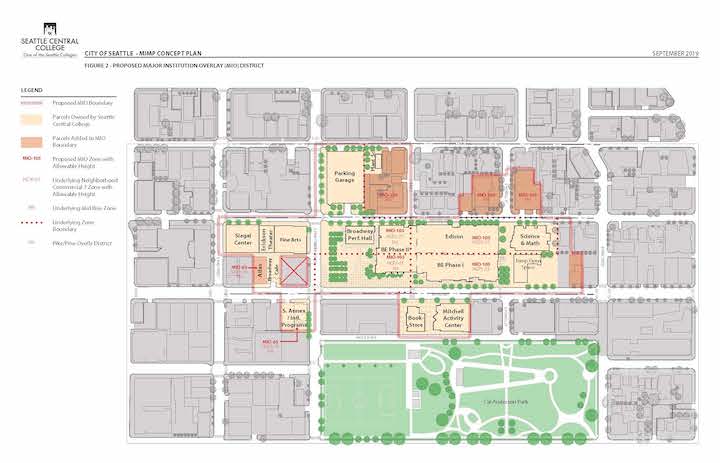 Link to larger Proposed Development Limits Map
Comments & Feedback
Please share any thoughts, concerns or suggestions you have around changing boundaries by visiting our Community Feedback page and choosing Changing Boundaries as your Comment Topic. Thank you!