Meet with an Advisor
Note: our morning drop-in visits have been canceled for Friday January 17, 2020.
Eligibility
To see an advisor, students must:
Be enrolled at Seattle Central or another campus of the Seattle Colleges
Have completed placement testing or have had the placement test waived through previous college credit.
Have completed the START orientation
If you would like to speak with an academic advisor, we offer two options, depending on your issue:
Drop-in visits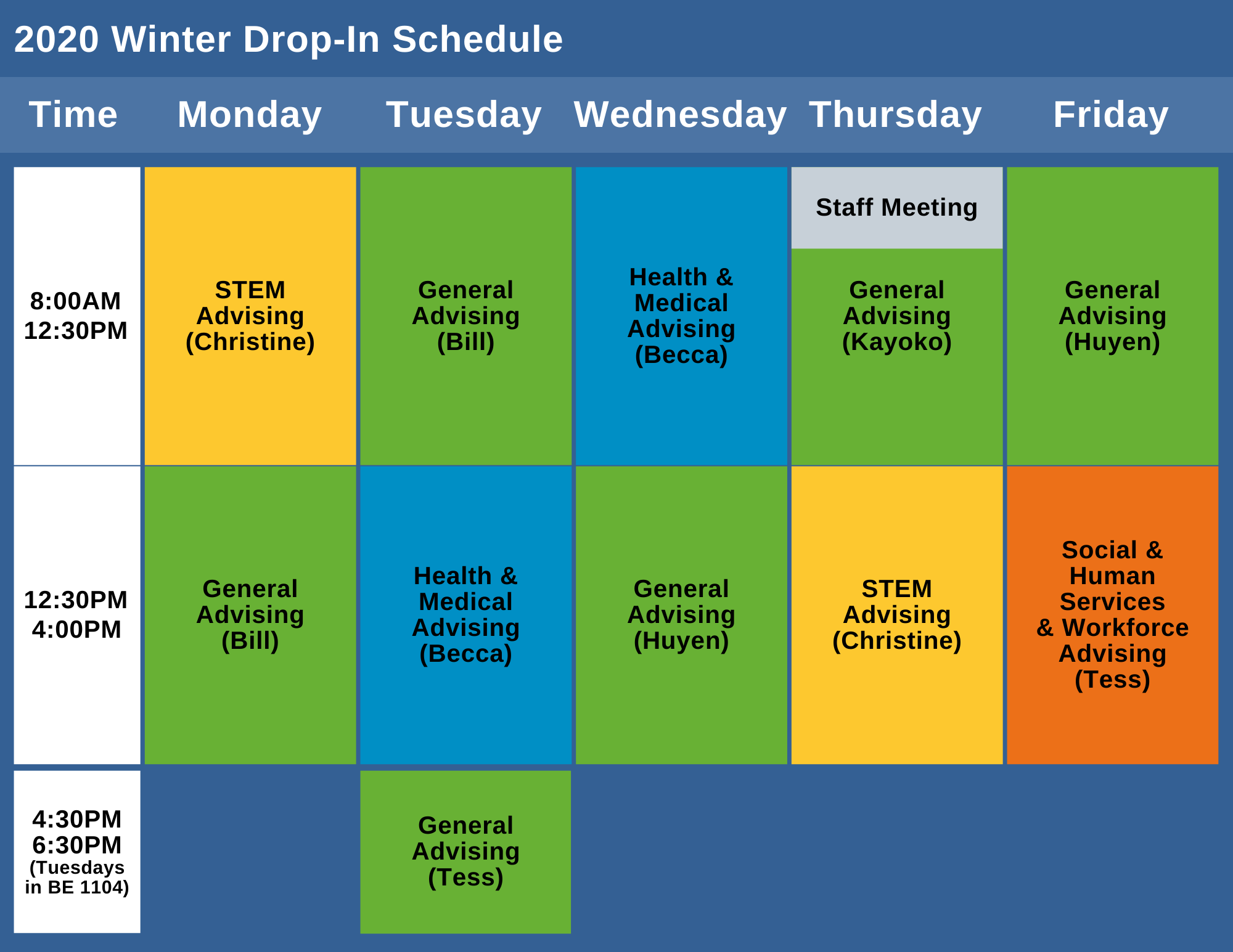 No advance appointment is necessary for these 10-minute sessions, which offer help with topics including:
Registration issues
Interpreting placement testing results
Referrals to other programs/services
Prerequisite clearance for registration
Consortium agreements
Printing a degree audit for financial aid
Appointments
These 30 minute sessions provide an opportunity to cover more in-depth topics, including:
Explanation of Certificate/Degree/Transfer requirements
Choosing classes for next quarter
Long-range educational planning
Unofficial transcript evaluations
Graduation applications
45-credit college progress check
In-depth College transfer process questions
Call to make an appointment: 206.934.4068 or visit our office: BE1102D
We recommending making an appointment at least several days in advance.
Non-registration periods between weeks 3 and 7 of each quarter are optimal times. At peak registration periods, it may be more difficult to make an appointment.
Note: If you are more than 10 minutes late to your appointment, it will need to be rescheduled. To cancel your appointment, please call our office.
Please bring the following to your Advising Appointment:
Photo ID
College transcripts from other schools you have attended (official or unofficial)
Any advising and educational planning information received from previous advising sessions (AA degree sheets, long-range plans, test scores, etc.)
Any transfer information you have on your prospective university or intended major
Not sure what to do?
Contact our office and let us help you!
Please note: the Family Educational Rights and Privacy Act (FERPA) prohibits our staff from checking student records by phone or email.