Online Orientation
Overview of Online Orientation
Please allow a minimum of 30‐40 minutes to complete the Orientation.
The online Orientation contains Audio. While Audio is not required, we strongly recommend it to gain the most out of the experience.
You will need to submit your Student Identification Number (SID) when you complete the Orientation. Your SID is assigned by the Admissions Office after your application has been processed.
If you have problems with the page loading
Note: We recommend using the Internet Explorer or Mozilla Firefox browser to play the online orientation. If you are using the Chrome browser and encounter a white screen, please open a new window in Chrome (NOT INCOGNITO) and go to the address bar and paste this: chrome://settings/content
On the list make sure JavaScript and Flash are enabled.
Then click on the padlock icon on the left side of your browser URL input bar.
Change the Flash status to "Allow".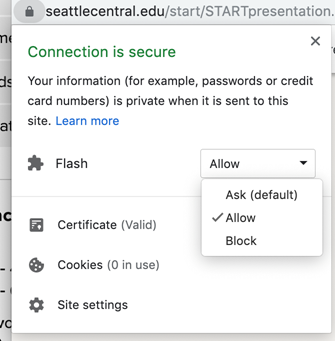 Click on the reload button to reload the page