Project Baldwin: Central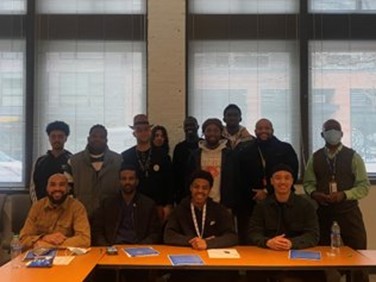 Project Baldwin is a mentoring initiative for underrepresented men of color attending Seattle Colleges to provide support, funding, structure, and mentorship for Seattle Colleges' affinity mentorship group initiatives. Project Baldwin: Central at Seattle Central College is a collective of students, staff and faculty who connect to empower. We are here to build community and brotherhood to boost completion and transfer outcomes for underrepresented men of color at South Seattle College.
In-person services
Location: EDIC Center (Broadway Edison Building - BE 1112)
Dates: 8/22, 8/23, 8/24, 9/5, 9/6, 9/7, 9/19, 9/20, 9/21
Time: 10 am - 2 pm
Virtual services
Monday – Friday, 8 AM to 4:30 PM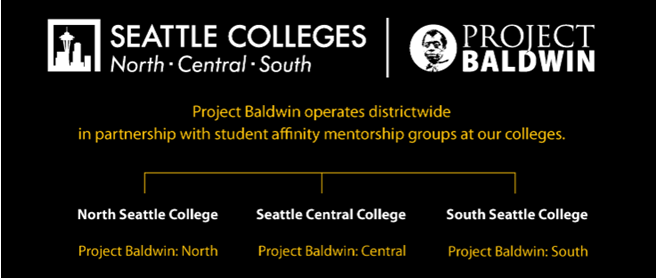 Find out more about Project Baldwin
Named in honor of beloved elder James Baldwin, the celebrated American author and activist, Project Baldwin is a mentorship initiative at Seattle Colleges to boost completion and transfer outcomes for Black, Latinx, Native American, and Asian Pacific Islander males. These students typically complete programs at rates significantly lower than their White and Asian peers. Evidence shows that the extra support of mentoring can make a life-changing difference for all students, but especially students of color and particularly men of color.
Mission & Values
Create a safe and inclusive learning environment in order to foster academic, cultural and personal growth in its members. We will empower each other through camaraderie and brotherhood.
Resources & Support
Encourage and nurture brotherhood bonds among male students of color.
Build community and encourage higher educational attainment.
Develop leadership and professional skills to succeed beyond college.
Gain access to funding resources!
Additional Events & Activities 
Project Baldwin: Central scholars participate in various events and activities including career and networking events, volunteer opportunities, quarterly academic advising, funding/scholarship workshops, study sessions, intramural sports, peer-to-peer mentoring, Project Baldwin celebrations, and more.
Application Process
To apply for Project Baldwin: Central as a student mentee, complete a short participation form.
Attend a 30-minute info session in-person or via Zoom.
Scholarship Opportunities