Canvas
Overview
Canvas is our institution's Learning Management System (LMS). The 6-minute video below gives you a quick overview of the teaching and learning environment.
300 - Canvas Overview from Instructure Canvas Community on Vimeo.
Access
Our college requires faculty to be certified before using Canvas. To become certified, you will work with our Instructional Design team who will guide you through the process and serve as a resource and point-of-contact for instructional help. You may have early access to your live course in Canvas while working with the instructional designers on completing the required Canvas training. There are several options for completing the training, which are explained in our Canvas Certification Introduction Video embedded below. You have one quarter to complete the training.
Accessibility
Support
FAQs
Where is my Canvas Course shell?
You don't need to request your Canvas shell(s) - your Canvas shell(s) for the next quarter is already created – please look under the All Courses and customize your favorite courses by turning on the gold star next to the course listing. The course will be on your Dashboard.
If you haven't been trained and certified (check your certification status) contact the Instructional Designer team. If you need to start working on your course right away, you can create a private shell yourself. See this discussion of manually-created shells for more information.
If you have been using Canvas at Central and you don't see your course under All Courses, submit a ticket to eLearning.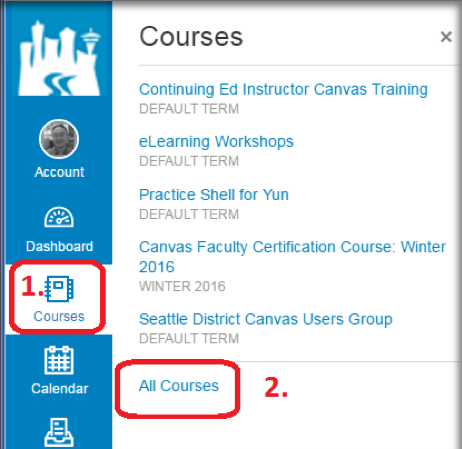 How do I reset my Canvas Password
Go to the Canvas Login Page

Click Forgot Password

Enter your SeattleColleges.edu Email Address

Click Request Password